Blaugrana at Phoenicia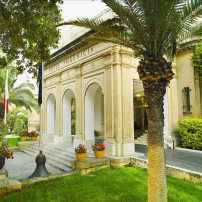 Blaugrana Ceramics have been awarded a prestigious contract for 136 Bathrooms at the 5 Star Phoenicia Hotel Malta. The project includes 4,500 square metres of ceramic floor and wall tiles.
Hotel Phoenicia is one of the oldest luxury Malta hotels of 5 star ranking is ideally situated at the entrance to the capital city, Valletta, a unique UNESCO World Heritage Site.
This article was written by admin